Lenze 8200 vector frequency inverter
The mains task of Lenze 8200 vector frequency inverters is the electronic speed
adjustment of three-phase AC motors. Together with a Lenze geared motor or a
Lenze three-phase AC motor the 8200 vector forms an electronic variable-speed
drive and provides excellent drive features.
Different combination possibilities of frequency inverters and application-specific modules, which can be connected via two interfaces, ensure high flexibility.

Additional features like compact design and high functionality make the 8200 vector frequency inverter the ideal solution for almost every application, e.g. in HVAC technology, material handling, and automation.
Lenze 9300 servo inverter – flexible and modern automation
High-performance 9300 servo inverters with a matching motor program form a perfect drive system. Market-oriented intelligence allow general technology functions (electrical shaft or positioning control) as well as electronic alternatives to mechanical components (register control, cam profiler).
Thus, costly upgrades with control cams, pull rods, and also clutches are not necessary in the manufacturing process.

Global Drive

These intelligent drives coordinate – accurately and precisely – all different movements of the machines to one another. No matter whether the system is equipped with a central control station or is controlled locally - high flexibility is guaranteed.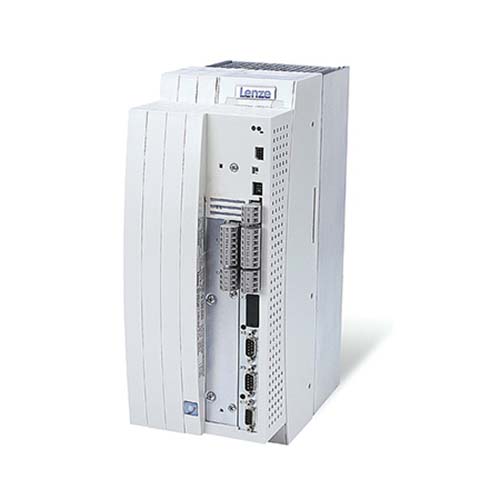 Lenze Inverters: Configurable for all requirements
Modern frequency inverters and servo are the key component of a cleverly designed solution.They are true masters when it comes to closed and open-loop control of load.
Lenze's inverters are scalable and always offer you the right solution for torque-controlled motion and speed and for position-controlled multi-axis and singleaxis motion, perfectly tailored to your own specific requirements.
Lenze Gearboxes: robust power packages
One single motor alone is not a universal solution to all applications. After all, many applications require low speed and high torque, and your machine may need a right-angle drive.
The robust, efficient gearboxes and geared motors from Lenze can handle even the toughest of machine tasks here.


And if you require couplings, locking bushes or other drive elements for your machine, you are sure to find precisely the right products for your requirements in the scalable product portfolio from Lenze Selection.
Lenze Three-phase AC motors
Lenze three-phase AC motor for constant motion.
Power range: 0.06 to 45 kW
Torque range: 0.43 to 290 Nm
Lenze Motor Advantages:
from 0.75 kW efficiency class IE2
7.5 kW and higher as 4-pole motors in B3 and B5
Temperature monitoring
Integral fan
Enclosure IP55
Connection options: terminal box
Up to 5.5 kW as 2, 4 or 6-pole motors in the designs B3, B14 and B5
Lenze Controls: Controlling made easy in any situation
The results are clear:
Optimised runtimes
Coordinated interfaces
Compact engineering
The full benefit of the Lenze product portfolio can be exploited using our controls, providing you with Lenze powerful automation products. From modern visualisation with panel PCs or monitors through to powerful panels and cabinet controllers - you are sure to find the right solution for your application here. It is Lenze Equipment.
From event-controlled controlling to full machine automation, our Lenze portfolio of visualisation and Lenze controlling components offers all the right products for modern system solutions. Perfectly adapted to downstream drive solutions, they are the embodiment of Lenze's extensive machine know-how and its benefits.
Lenze your partner in your Drive.
It allows you to quickly recognise which products represent the best solution for your own specific requirements.
Lenze Automation software
Software plays an ever increasing role in machine functionality.
For development process makes it possible to conduct more precise iterations at an earlier phase in the project, Lenze support for programming the application automation software and paves the way towards virtual commissioning.
Make fewer staff and faster time-to-market.